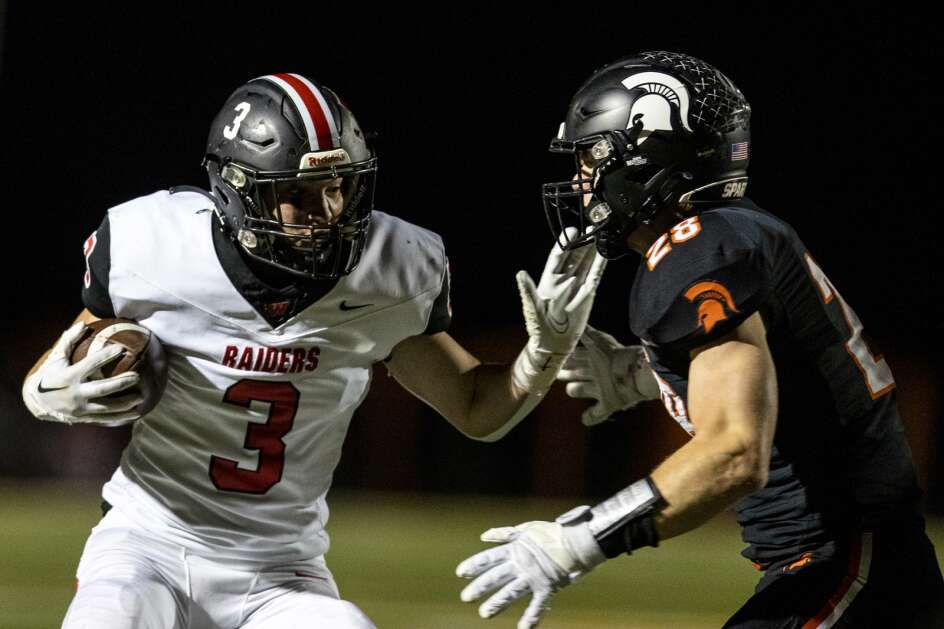 It had been too lengthy since a chaotic week atop The Gazette's Iowa highschool soccer ballot, proper?
Friday evening, two top-ranked groups fell — No. 7 Solon took down Williamsburg 21-14 in Class 3A and ninth-ranked Clarksville improved to 8-0 by rallying to beat Gladbrook-Reinbeck 38-36 in 8-Participant.
Gladbrook-Reinbeck's loss means Southeast Polk (5A), Van Meter (2A) and Grundy Heart (1A) are doubtless the final remaining groups with a shot at wire-to-wire stays at No. 1 of their lessons.
Right here's a take a look at how the 72 groups ranked in The Gazette's ballot fared in Week 7.
Class 5A
No. 1 Southeast Polk beat No. 3 Waukee, 38-0
No. 2 West Des Moines Dowling beat Urbandale, 29-0
No. 3 Cedar Rapids Kennedy beat Dubuque Hempstead, 44-0 (Thursday)
No. 3 Waukee misplaced to No. 1 Southeast Polk, 38-0
No. 5 Nice Valley beat Muscatine, 48-21
No. 6 Ankeny beat Iowa Metropolis Liberty, 40-21
No. 7 Waukee Northwest beat Ottumwa, 76-14
No. 8 Ankeny Centennial beat Des Moines Roosevelt, 43-7
No. 9 Bettendorf beat Davenport Central, 63-0
No. 10 Cedar Rapids Prairie beat Cedar Rapids Jefferson, 48-7
Class 4A
No. 1 Adel ADM beat Ballard, 20-13
No. 1 Western Dubuque beat Waterloo East, 52-29
No. 3 Bondurant-Farrar beat No. 4 Gilbert, 38-7
No. 4 Gilbert misplaced to No. 3 Bondurant-Farrar, 38-7
No. 5 Council Bluffs Lewis Central beat Winterset, 42-6
No. 6 Cedar Rapids Xavier beat Oskaloosa, 42-0
No. 7 North Scott beat Clear Creek Amana, 16-14
No. 8 North Polk beat No. 10 Indianola, 27-0
No. 9 Le Mars beat Fort Dodge, 42-7
No. 10 Decorah misplaced to Marion, 28-21
No. 10 Indianola misplaced to No. 8 North Polk, 27-0
Class 3A
No. 1 Williamsburg misplaced to No. 7 Solon, 21-14
No. 2 Creston beat Knoxville, 56-14
No. 3 Clear Lake beat Hampton-Dumont-CAL, 21-6
No. 4 Mount Vernon beat Fort Madison, 45-7
No. 5 Harlan misplaced to No. 9 Nevada, 39-20
No. 6 Sioux Heart beat MOC-Floyd Valley, 19-12
No. 7 Solon beat No. 1 Williamsburg, 21-14
No. 8 Davenport Assumption beat Washington, 35-0
No. 9 Nevada beat No. 5 Harlan, 39-20
No. 10 Independence beat Maquoketa, 41-0
No. 10 Sioux Metropolis Heelan beat Boyden-Hull/Rock Valley, 42-12
Class 2A
No. 1 Van Meter beat Centerville, 63-6
No. 2 Central Lyon/George-Little Rock beat No. 5 Western Christian, 42-7
No. 3 West Lyon beat Sheldon, 35-7
No. 4 Spirit Lake beat Garner GHV, 62-6
No. 5 Monticello beat West Liberty, 48-3
No. 5 Western Christian misplaced to No. 2 Central Lyon/George-Little Rock, 42-7
No. 7 Carroll Kuemper beat Saydel, 56-14
No. 8 Monroe PCM beat West Marshall, 49-20
No. 9 Roland-Story beat Des Moines Christian, 41-14
No. 10 Clarinda beat Chariton, 50-14
Class 1A
No. 1 Grundy Heart beat Alburnett, 35-0
No. 2 Underwood beat Missouri Valley, 63-0
No. 3 Sumner-Fredericksburg beat Central Springs, 47-0
No. 4 MFL MarMac beat No. 6 Denver, 28-7
No. 5 Wilton beat No. 8 West Department, 21-17
No. 6 Denver misplaced to No. 4 MFL MarMac, 28-7
No. 7 Sigourney-Keota beat Colfax-Mingo, 82-0
No. 8 West Department misplaced to No. 5 Wilton, 21-17
No. 9 Iowa Metropolis Regina beat Dyersville Beckman, 48-21
No. 10 Dike-New Hartford beat Aplington-Parkersburg, 41-8
Class A
No. 1 Saint Ansgar beat West Fork, 69-8
No. 2 Woodbury Central beat Tri-Heart, 41-21
No. 3 West Hancock beat No. 7 Lake Mills, 41-0
No. 4 Madrid beat North Mahaska, 41-0
No. 5 Lisbon beat Danville, 63-14
No. 6 Guthrie Heart ACGC beat Mount Ayr, 42-18
No. 7 Lake Mills misplaced to No. 3 West Hancock, 41-0
No. 7 Lynnville-Sully beat Martensdale-St. Marys, 33-12
No. 9 Wapsie Valley beat Conrad BCLUW, 50-8
No. 10 Starmont beat Bellevue, 33-12
8-Participant
No. 1 Gladbrook-Reinbeck misplaced to No. 9 Clarksville, 38-36
No. 2 Winfield-Mount Union beat Mormon Path, 17-0 (forfeit)
No. 3 Anita CAM beat Fremont-Mills, 37-20
No. 4 Bedford beat Lamoni, 87-6
No. 5 Remsen St. Mary's beat Woodbine, 56-26
No. 6 Central Metropolis beat Lone Tree, 44-13
No. 7 Don Bosco beat Turkey Valley, 59-14
No. 8 Lenox beat Southeast Warren, 60-18
No. 9 Clarksville beat No. 1 Gladbrook-Reinbeck, 38-36
No. 10 WACO beat English Valleys, 51-6
Feedback: [email protected]